OMEGA-3 FOR DOGS: UNLOCKING THE BENEFITS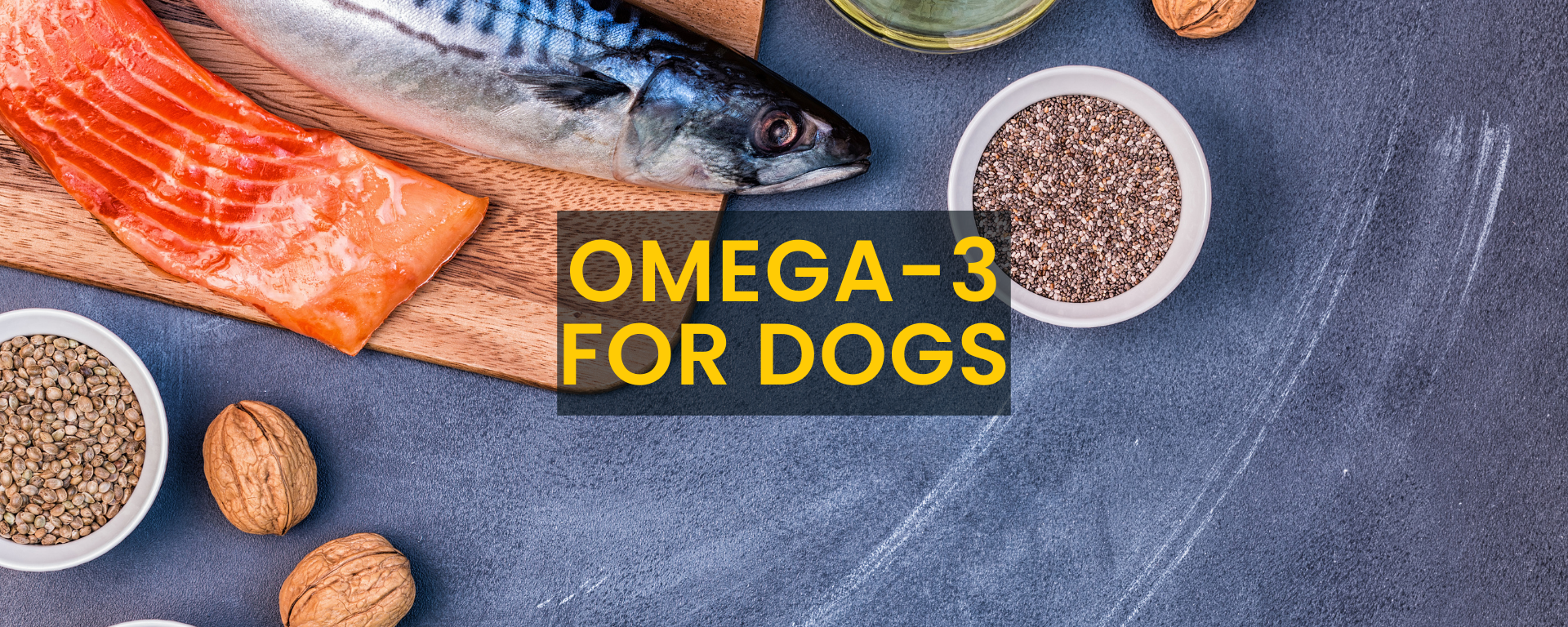 summary
Omega-3 fatty acids are essential for dogs and offer various health benefits. They come in three types: ALA, DHA, and EPA.
Omega-3 helps is crucial for brain development in puppies. Supports healthy skin, aids digestion, and shows potential in cancer treatment. Recommended dosages range from 50-200 mg per kg of body weight. A slow increase in Omega-3 minimizes side effects. It's also important to maintain the right balance between Omega-6 to Omega-3. The Omega-6 to Omega-3 ratio should be less than 10:1, the closer the ratio is to 1:1 the better it is. A fresh food diet, which is complete and balanced should have healthy sources of Omega-3. The best source of Omega-3 is a small cold water fresh fish like Sardines and Mackerels.
OMEGA-3 FOR DOGS: UNLOCKING THE BENEFITS
WHAT ARE OMEGA-3 FATS?
Omega-3 fatty acids are a group of fats that are important for proper body function. These fats also offer many health benefits. Since dogs are unable to produce these fatty acids on their own, it is crucial to get them through their diet.
THREE MAIN TYPES OF OMEGA-3
There are three primary types:
Alpha-linolenic acid (ALA)
Docosahexaenoic acid (DHA)
Eicosapentaenoic acid (EPA).
ALA comes from plants like soybean, canola, and flaxseed oils. While EPA and DHA mostly come from marine sources like sardines, salmon, mackerel, and tuna.
Here's the important thing to know: ALA is not as significant on its own, but it is crucial because it is a starting point for other important fatty acids like EPA and DHA. However, dogs have a hard time converting ALA to EPA and DHA efficiently. To make sure your dog gets enough beneficial omega-3 fatty acids, it's a good idea to include direct sources of EPA and DHA in their diet. Adding marine fish or a high-quality fish oil supplement to their daily meals can meet this need.
THE OMEGA-6 to OMEGA-3 RATIO
Let's talk about Omega-6 and Eicosanoids to understand how the ratio of Omega-6 to Omega-3 can affect your dog's health Omega-6 fatty acids are important fats found in vegetable oils, nuts, seeds, and poultry. They help with cell growth and inflammation, but it's crucial to balance them with omega-3 fatty acids for the best health outcome
Eicosanoids are molecules that regulate the immune system and have hormone-like effects. They can cause inflammation in response to bacterial infections or allergies. There are four main types of Eicosanoids, and Omega-6 and Omega-3 produce different types. Omega-6 (also called linoleic Acid or LA) produces more inflammatory Eicosanoids. While Omega-3 (specifically EPA) produces less inflammatory ones.
Omega-3 Eicosanoids help counteract the inflammatory effects of Omega-6 Eicosanoids. In a study, dogs fed a diet with a ratio of Omega-6 to Omega-3 ranging from 10:1 to 5:1 had much less skin inflammation compared to those on a diet with a ratio of 28:1 or higher (which is common in commercial dog food diets). Other studies suggest that dogs thrive when the Omega-6 to Omega-3 ratio is closer to 1:1. It's not just about how much healthy fats your dog consumes. It is also about achieving a balance between Omega-6 and Omega-3 for optimal health benefits.
FOR A PUPPY DEVELOPMENT
During the critical phase of brain development in puppies, which takes place from day 1 to day 60, Omega-3 fatty acids, particularly DHA, play a crucial role. Puppies primarily rely on their mother for nourishment during this period. Recent studies have revealed that they can still convert ALA to DHA from their mother's milk during this growth stage. However, this ability diminishes after weaning, necessitating a direct source of DHA.
To ensure your growing pup receives an optimal intake of DHA, it is highly recommended to include it directly in their food. Research has shown that incorporating preformed DHA into the diet can enhance retinal function and sensitivity in 12-week-old puppies. Furthermore, puppies fed a diet containing high DHA demonstrated significant improvements in their ability to learn new tasks and retain memory of learned tasks. Therefore, a complete and balanced puppy diet should incorporate a fresh source of DHA, such as marine fish or high-quality fish oil supplements.
FOR A HEALTHY SKIN
The skin is the largest organ in your dog's body and can take up around 24% of the body weight. The health of your dog's skin is affected by a variety of nutrients like proteins, vitamin A, vitamin E, essential fatty acids and zinc. Feeding a poorly balanced diet can contribute to skin disorders.
The omega-6 fatty acids (especially Linoleic Acid) are considered to be essential nutrients for dogs. EPA and DHA are known to support normal cell fluidity and also have anti-inflammatory and support the immune system.
A deficiency in Essential Fatty Acids (EFAs) becomes apparent with 2-3 months of consuming a deficient diet. Initial signs are a dull, dry coat, hair loss and eventually develop lesions. This lack of fats affects the normal bacterial flora on the skin, predisposing the skin to bacterial and fungal infections.
A complete and balanced fresh diet is known to restore skin health within 1-2 months.
HELPS IN SUPPORTING THE DIGESTIVE SYSTEM
The well-documented anti-inflammatory benefits of Omega-3 suggest its potential role in managing Inflammatory Intestinal Disease. When dogs were fed diets with higher Omega-3 to Omega-6 ratios (between 10:1 and 5:1), there was a significant increase in the production of anti-inflammatory Eicosanoids from Omega-3. While the impact of Omega-3 on intestinal health in dogs has not been extensively studied, the positive findings in studies involving humans and rats support the idea of a higher proportion of Omega-3 to Omega-6 in the diet.
ROLE IN TREATING CANCER
Ongoing research aims to establish the role of Omega-3 in cancer treatment. The anti-inflammatory effects of Omega-3 on multiple systems in a dog's body suggest its potential in treating cancer patients. Increasing evidence indicates that Omega-3, particularly EPA and DHA, can restrict tumor growth. Moreover, there is indirect evidence suggesting that a diet rich in Omega-3 may help prevent cancer recurrence after achieving remission. While the underlying mechanism is not yet fully understood, it appears that Omega-3's effect on cancer cells is linked to its incorporation into their membranes. This alteration affects the cancer cells' ability to grow and renders them more susceptible to chemotherapy.
Ongoing research aims to unravel the effects of Omega-3 in cancer treatment. It is evident that cancer begins to impact the body before clinical signs become apparent. Thus, the significance of a fresh and balanced diet, rich in digestible proteins, high in Omega-3, and low in carbohydrates, cannot be overstated.
FOR JOINT HEALTH
The anti-inflammatory effects of Omega-3 in various systems in the body have been verified by numerous studies. There is evidence in human subjects that omega-3 can reduce joint inflammation in cases of joint injuries and arthritis. In dogs, there is evidence that increasing omega-3 fatty acids in the diet of dogs with ruptured cranial cruciate ligaments may benefit joint health.
While research to further understand its role on joint health is on-going. It's important to ensure the senior dog's diet has adequate dosage of Omega-3.
OMEGA-3 IN COMMERCIAL PET FOOD
The first concern is that there is no official recommended minimum quantity. The American Feed Control Officials (AAFCO) Omega-6 minimum requirement is 1% of Dry Matter (DM) for dogs.
The second concern is the ratio between Omega-6 and Omega-3. Most commercial pet foods use excessive Omega-6 sources like sunflower oil. This potentially neutralizes any positive effects of any Omega-3 present.
HOW MUCH OMEGA-3 SHOULD YOU GIVE YOUR DOG?
Although AAFCO does not provide specific minimum recommended dosages for Omega-3, the Canine Arthritis Resource and Education (CARE) suggests a daily dosage between 50 - 200 mg per kg of body weight. For dogs with arthritis, the recommended daily dosage is 100 mg per kg of body weight.
It's important to note that overdosing can lead to significant side effects such as diarrhea and vomiting. Dogs may require some time to adjust to a sudden increase in Omega-3 in their diets, so it's advisable to introduce it gradually to minimize side effects.
Furthermore, the ratio of Omega-6 to Omega-3 is also important. High doses of Omega-6 can neutralize any potential positive effects. Therefore, maintaining a balanced ratio is crucial for optimal benefits.
RANCIDITY
Here's the flip side to Omega-3. It oxidizes very fast and gets rancid and looses all the health benefits we have discussed in the article. Moreover, there are some growing concerns that rancid omega-3 might be causing inflammation. Read more about Rancidity in fish oils here
ABOUT YODOGGO FOODS
There are three reasons why YoDoggo foods are great sources of Omega-3:
YoDoggo includes Atlantic Mackerel in all their recipes, which is a healthy and rich source of Omega-3. Since it is a small fish, there is no risk of mercury toxicity. Fresh fish is used, rather than fish oil extracted from fish industry waste. YoDoggo recipes maintain optimal Omega-6 to Omega-3 ratios, ranging from 5:1 to 1.2:1. This ensures a balanced intake of these essential fatty acids. YoDoggo foods contain high levels of healthy fats that are important for your dog's healthy.
Check out our Beef & Fish recipe
Flexible Monthly Meal Plans | Gently cooked and freeze dried | Complete and Balanced | Meets and Exceeds AAFCO and FEDIAF | 100% Human Grade | No artificial preservatives | No by -products | No-Gluten | High Protein | Balanced Fats | Low Carbs. Get started today with YoDoggo
Further Readings and References
Fish Oil | VCA Animal Hospital
Omega-3 | Dog health | The Kennel Club
Multicenter veterinary practice assessment of the effects of omega-3 fatty acids on osteoarthritis in dogs in
https://caninearthritis.org/article/how-much-omega-3-fatty-acids-should-i-give-my-dog/ 
Fish Oil for Dogs – American Kennel Club
Canine and Feline Nutrition, Linda P Case , Michael G. Hayek, PhD, Leighann Daristotle, DVM, PhD, Melody Foess Raasch, DVM
Freeman, Lisa M. "Beneficial effects of omega‐3 fatty acids in cardiovascular disease." Journal of Small Animal Practice 51.9 (2010): 462-470.
Roush, J. K., Cross, A. R., Renberg, W. C., Dodd, C. E., Sixby, K. A., Fritsch, D. A., … & Hahn, K. A. (2010). Evaluation of the effects of dietary supplementation with fish oil omega-3 fatty acids on weight bearing in dogs with osteoarthritis. Journal of the American Veterinary Medical Association, 236(1), 67-73 Scorza, F. A., Cavalheiro, E. A., Arida, R. M., Terra, V. C., Scorza, C. A., Ribeiro, M. O., & Cysneiros, R. M. (2009). Positive impact of omega-3 fatty acid supplementation in a dog with drug-resistant epilepsy: a case study. Epilepsy & Behavior, 15(4), 527-528.
A UNIQUE CONCEPT IN DOG FOOD
All the benefits of fresh food without the inconvenience
featured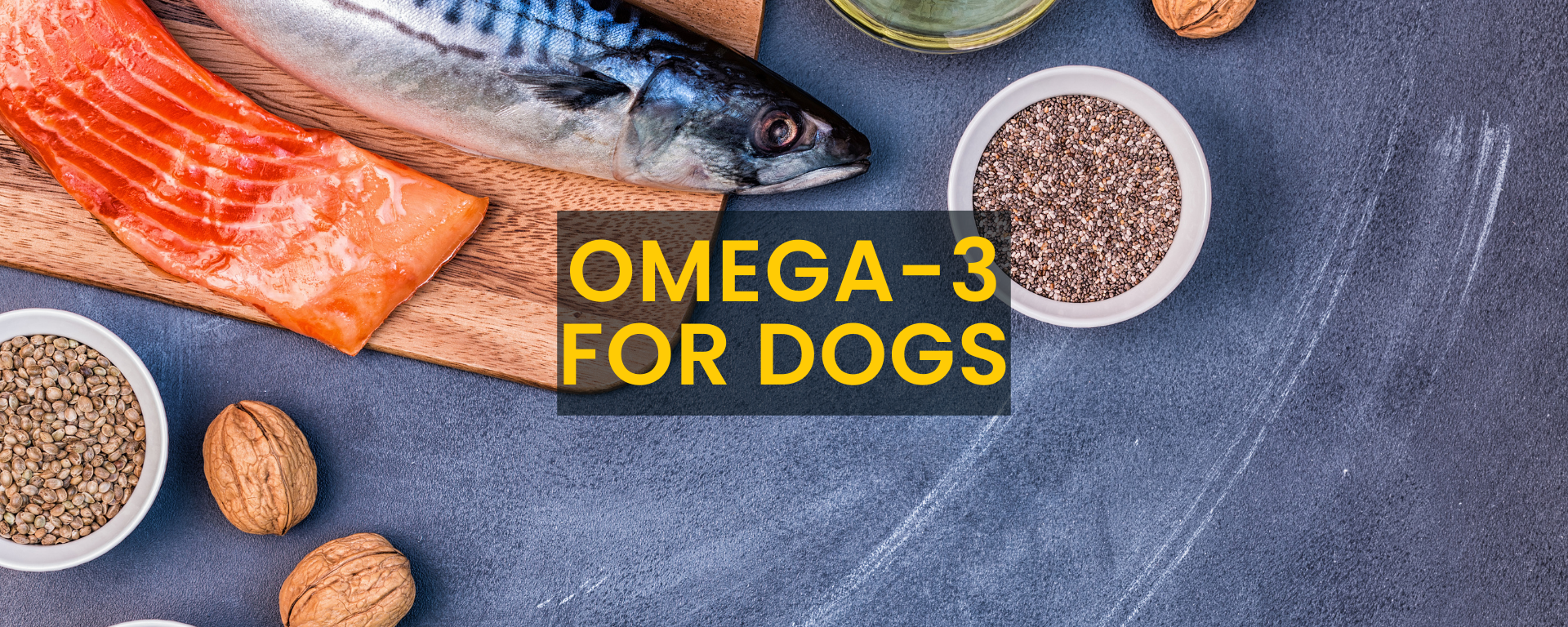 OMEGA-3 FOR DOGS: UNLOCKING THE BENEFITS
Importance of Omega 3 for Dogs | Feeding Omega 3 | Deficiencies and Overdoses | Ration between Omega 6 and Omega 3
Read More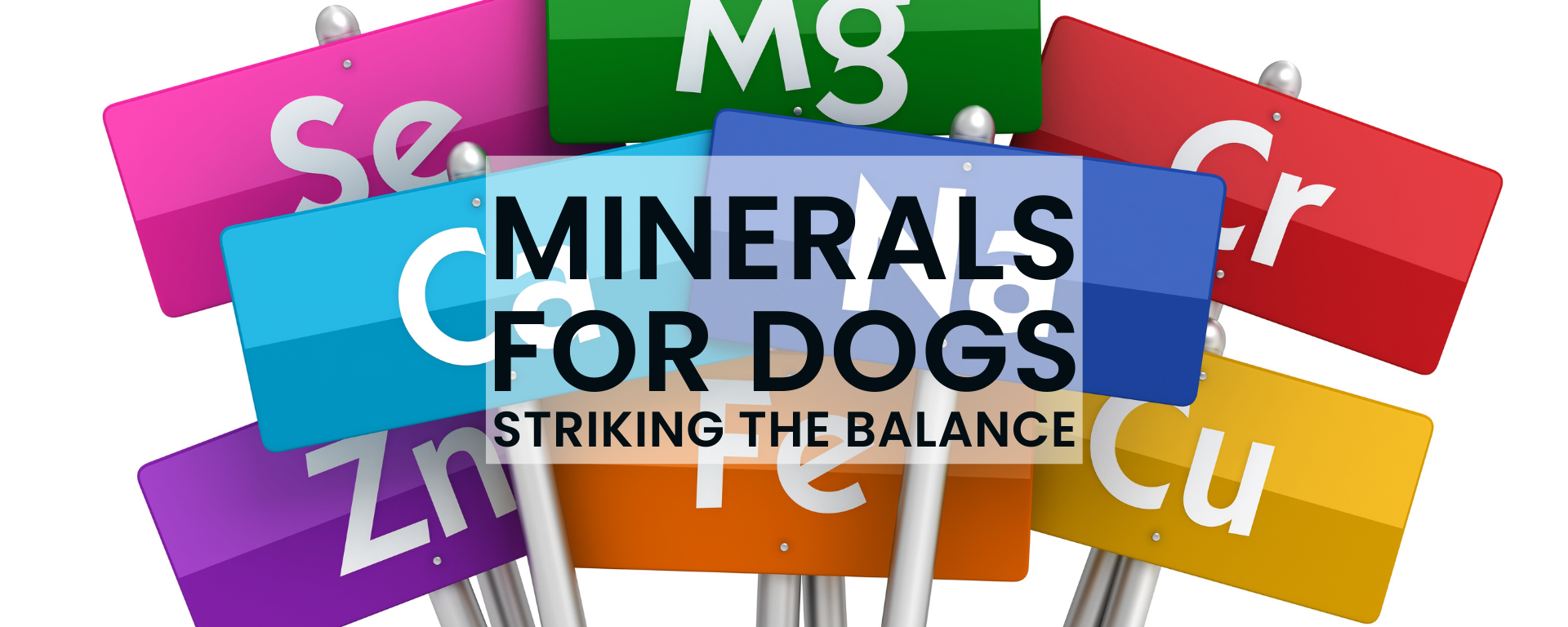 MINERALS FOR DOGS: STRIKING THE BALANCE
A Completed & Balanced diet has all the essential Minerals | Why feed Minerals? | AAFCO recommended quantities | Deficiencies and Overdoses
Read More
Are you sure you want to stop meal plan for your dog?
There are another options for you:
cancel